If you're spending most of your cello time in your own personal cello space, you probably don't get too many distractions. You have your chair and stand ready and waiting, good lighting, a tuner and metronome nearby, and your cello just needs some rosin and tuning and you're ready to go.
Sometimes, there are distractions.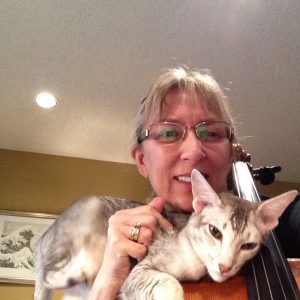 I happen to have a cat who loves to jump on my back when I'm leaning over to mark my music. Then he's happily on my shoulder and licking the fingerboard.
The phone rings, your computer bings, your kids/husband/girlfriend yells. All these distractions actually become normal and you can deal with them. It's the unusual distractions I'm thinking about.
I was at a gig with a substitute violist. He was fabulous. Fabulously loud and fast. I just wasn't used to hearing it in my ear and found that it was distracting me. Later that week at another gig we were playing a Disney tune and an adorable little girl was happily dancing away. I could hardly keep my eyes on the music as she was so delightful to watch.
Unfortunately, when you're performing, you must stay focused and you don't have the advantage of enjoying the bystanders or becoming annoyed at the distractions. Even when you're feeling that you're doing so well and the group is performing like pros- don't give in to that feeling of savoring the moment. You'll lose the focus and wander off track.
Maybe when I've done this for 20 years I'll be able to relish those good moments or get better at tuning out the annoying distractions, but for now it's all about concentration and staying fixed on the job at hand. I can enjoy my cat on my back at home later.