As cellos, we are often the metronome, setting the beat and keeping everyone else honest with a steady beat, neither increasing tempo at FF or slowing down at PP. We are the champions of steady.
Sometimes, however, even we are befuddled. When we see odd time signatures, or changing time signatures, we can be thrown off balance a little. Just a little, as we ARE cellos.
Here's an example: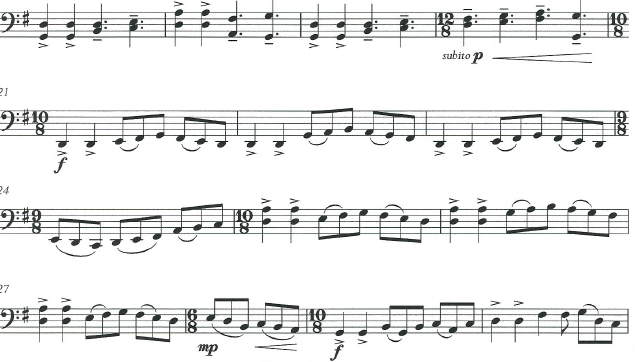 This is from "Celebration" written by Beth Bultman, director of SCOR camps (stringcamp.com). Notice time signatures of 12/8, 10/8, 9/8, 10/8, 6/8, 10/8. It changes more but this gives you the idea. Enough to confuse anyone.
Here's something I learned at SCOR, thanks to Kyle Bultman. ALL TIME SIGNATURES are made up of either 2 or 3 beats, of some combination thereof. That's it. It's really that simple. So the 12/8 measure is 4 groups of dotted quarter notes, or 3-1/8 notes.
10/8 is two quarters: 2-1/8 notes and 3-1/8 notes.
9/8 is 3 groups of 3-1/8 notes
6/8 is two groups of 3-1/8 notes
I'm playing a piece in orchestra which is 7/8, so I think of it as 2-2-3 when it's quarter note, quarter note and 3-1/8 notes. It's easier that way and it's really hard to count to 7 every measure, let alone 12 or 10 when the time signatures are constantly changing. If it's a fast tempo, counting to 7 is thrown out the window. The good thing about a piece like "Celebration" or the one I'm playing in orchestra is that an eighth note is always an eighth note, in that it isn't slowing or speeding up (although that can happen- but a conversation for a different blog!)
Break it down and keep it simple. A fundamental cello rule.